Looking for a Locksmith in Andover, CT?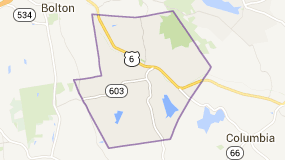 If you are looking for a Locksmith in Andover CT, Call Action Services Lock Company today! With a population hovering around 4,000, you would think Locksmith Services are not needed.  Today, not much is farther from from the truth.  Random crime seems to be occurring more often than ever. Calling Action Services for your Locksmith needs is a conservative, rational thing to do.
We are a family owned, full time mobile locksmith security company dedicated to the local Andover CT area. Owned by Ron and Stacy Silberman, we have served the Greater Andover CT area for years. Our "Wonder Dog" Lucy accompanies Ron on most calls as long as it is cool enough for her to stay safely in the van. The kids are grown and all live in the surrounding Andover CT area keeping us well grounded and accessible.
On the Residential side, all new homeowners in the Andover CT area should give Action Services Company a call and make an appointment for Ron to stop out and do a simple combination change. Often the existing locks on the door are a quality product without the need for replacement. What is essential though is to re-set the pins, assign a new key to the existing lock and ensure anyone that had a key now doesn't. This is a rather benign procedure and much less expensive than new locks; while here, Ron will accompany you while performing a complimentary security audit. In today's world, if you do not have deadbolts on every door, you should! Andover CT is a very safe and secure area but the elimination of old keys, servicing the locks and the installation of deadbolts is a very inexpensive deterrent to today's random intrusions.
In Andover, CT Commercial Locksmith services are minimal, but being certified in many different commercial product lines; including Medeco, Corbin Russwin, Schlage, and Marks to name a few, instill a knowledge base and confidence to meet or exceed all of your residential needs.  Ron, a full service locksmith, will personally visit your Andover CT area location, professionally address your installation, repair, re-combination needs, etc and solve almost anything you can throw at him. Panic bars, door closers, electric access strikes, high security deadbolts, all installed and serviced with the utmost of professionalism and confidentiality.
Andover's rural character remains unspoiled with farmlands, stone walls and historic homes dotting the landscape. The original Town Hall of 1893 can be seen from Route 6 near the intersection with Route 316. The Old Town Hall now houses the town museum that is operated by the Historical Society. The new Town Office building is located on School Road between the town's firehouse and the elementary School.
Some of the advantages of living in Andover are the Hop River State Park Trail, a 6-mile gravel and compact earth trail that is part of the 3,000 mile East Coast Greenway. It connects the Bolton portion of the trail way system with the Columbia portion at the town lines. It passes through Andover along Route 6, providing residents with opportunities for walking, bicycling and equestrian uses. The Veteran Memorial Field provides residents with recreational fields for baseball, softball, soccer and football events.


Action Services Company, the leading Andover CT locksmith for over 35 years.